The Museum gives special thanks to the Kohara family for providing this previously unpublished photograph.
The photograph was taken sometime between 1941-43 from the middle of Murray Street, just west of its intersection with 5th Street, looking toward the Red River bridge in the distance. Note that the street is still brick at this point in time.
On the left can be seen the New Log Cabin Cafe, the site on which the Joy Theatre was built in the late 1940s. The Kohara studio is further down the block on the left between 4th and 5th streets. In the next block can be seen the Montgomery-Ward building and Guaranty Bank building.
Shown below is a detailed view of the north side (left) of Murray Street, betwen 5th and 4th Streets. Note the following variety of businesses along this single block: New Log Cabin Cafe, Central News, Modern Cabs, Smith Glass & Mirror, (Kohara) Photos, shoe repair, sandwich shop, and drug store.
Shown below is a detailed view of the south side (right) of Murray Street, with the Murray Street Bridge in the distance. Some of the highlights along this side of the street: Gulf Oil, Rush's Pure Food Cafe, Walgreens, Jax Beer sign
Shown below is a detailed view of the Pam-Am station at the corner. Note the city street light, the "Approved Credit Cards Honored" sign, the Davis-Puckett Oil Company truck, and the lady (headed to the Post Office?).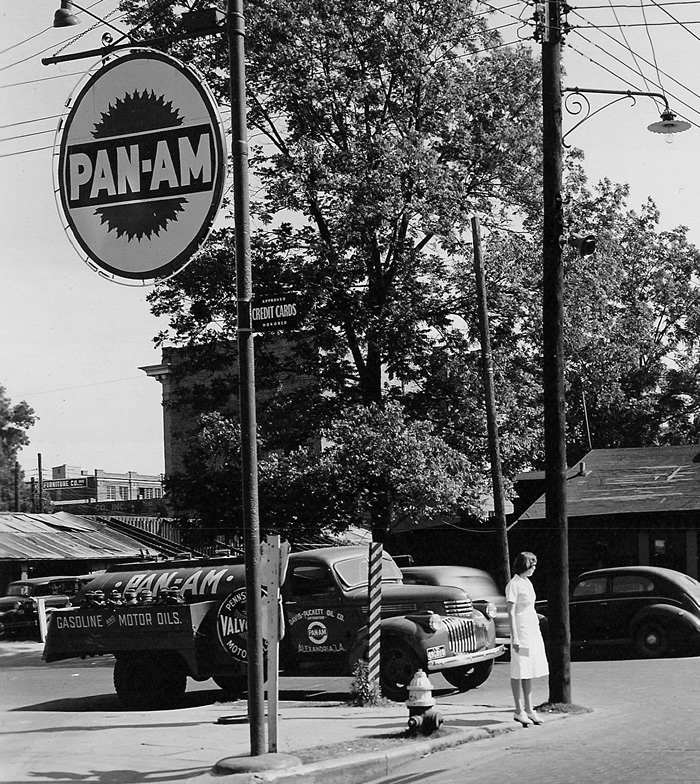 Availability of Copies
High-quality copies of archive photos or other available photos can be provided on photographic paper upon request. 8"x10" copies are available for a $15.00 donation to the Museum; 5"x7", for a $10.00 donation.
Make your check or money order payable to Louisiana History Museum, and mail to
P.O. Box 12302, Alexandria, La. 71315-2302. Add $1.00 for postage.