The Louisiana History Museum, located in downtown Alexandria, is dedicated to collecting, presenting, interpreting and promoting understanding of the wealth of history associated with Alexandria, and all of Louisiana. The museum maintains one of the foremost collections of historical objects in the state.
The building housing the Louisiana History Museum began as the Alexandria Public Library in 1907.
"Greetings from Alexandria"
... from the vintage postcard collection of the Louisiana History Museum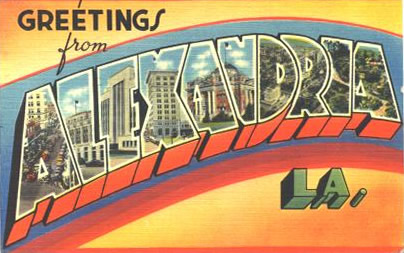 Press Release - 06/21/2016
Dale Genius honored as "Central Louisiana Preservationist of the Year"

02/15/2015
Article in the Alexandria Daily Town Talk about the Museum's Newcomb Photograph Collection
01/13/2015
Museum Director Dale Genius' article at CenLA Focus: Photographs Are An Important Part of History Research

New! The Louisiana History Museum announces availability of a 2-volume DVD set featuring historic photographs of Alexandria and Central Louisiana from the 1850s - 1960s.
503 Washington Street · Alexandria, Louisiana 71301 · Phone 318.487.8556
Admission is free
Personal or group tours are available by appointment. Handicap accessible.
10:00am to 4:00pm
Tuesday through Saturday